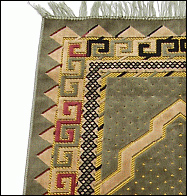 Your rug may look clean, but chances are that there are miniscule particles of dirt and dust hidden within the fibers. These particles can wear out the fibers and cause your rug to look shabby and ragged. It is recommended that you get your rug professionally cleaned at least once every year.

We specialize in the following rug services:

Rug Cleaning
Rug Repair / Rug Re-fringe
Rug Restoration
Rug Pet Stains and Odor Removal
Rug Hand Wash
Rug Antique Wash
Domestic or Hand Made Rugs Cleaning and Repair
RUG FREE PICK UP & DELIVERY

For a Free Estimate of your Rug Cleaning call us at:

866-245-5687



---
Our Rug Cleaning Methods:
Years ago, dust was removed from rugs by using carpet beaters. The first step of our cleaning process is similar to these old methods, but adapted to work more delicately with your rugs. Beating a rug will cause the fibers to break and eventually lead to a rugged, worn down look of your rug. Our preferred technique to removing dust is to use compressed air. This is powerful enough to remove the dust, but won't damage the fibers.
Once all the loose dust and dirt has been removed, the rug is carefully placed into a washing bath filled with fresh flowing water. The water is allowed to flow through the rug fibers as our skilled technicians use natural cleaners to gently hand wash the rug. It is important to note that we apply a color bleeding test to every rug before we wash it. If the rug is positive for color bleedings, we use a special color blocker to protect the rug.
If there are lingering odors after the fresh water bath, we will move your rug to the decontamination bath. Here, large rollers will gently press down on the fibers and squeeze the orders from your rug. The decontamination bath also has fresh water flowing throughout so the odors will be swept away.
Once clean and deodorized, the rug will undergo a final rinsing to ensure that only fresh water remains within the rug's fibers. The rug is then hung to dry in one of our triple-fan, temperature-controlled facilities. These facilities make certain that the rug is efficiently dried throughout all the fibers. During the drying process, our technicians visually inspect and clean the fringe of the rug.
Once the rug is dry, the carpet and fringe is groomed. The process is completed when we wrap your rug safely in our transportation bags and deliver them straight to your door. We'll even be happy to unroll and lay the rug down for you!
Rug Cleaning Tips